Should there be a cloud or not? As the cloud has provided businesses with numerous opportunities, this question has been around for a while. Moving to the cloud has a lot to offer businesses, from not having to maintain pricey servers to more development infrastructure, easier deployment, and scaling. However, for many businesses, adopting a cloud strategy may no longer be necessary or important; moving toward adopting a multi-cloud strategy is the topic of discussion. 
However, businesses must first decide if a cloud strategy is right for them and understand what it will take to architect their systems to become cloud-native before investigating the potential of a multi-cloud strategy. While you can just upload software to the cloud, if you don't build it properly, it can be expensive and implementing a multi-cloud strategy becomes even more challenging. 
An organization may choose multiple cloud service providers to host various apps as a multi-cloud strategy. Businesses might choose to do this for several reasons, which we shall discuss in more detail later in this blog. 
Learn from Leaders of IT
"How to use Chatgpt and Generative AI"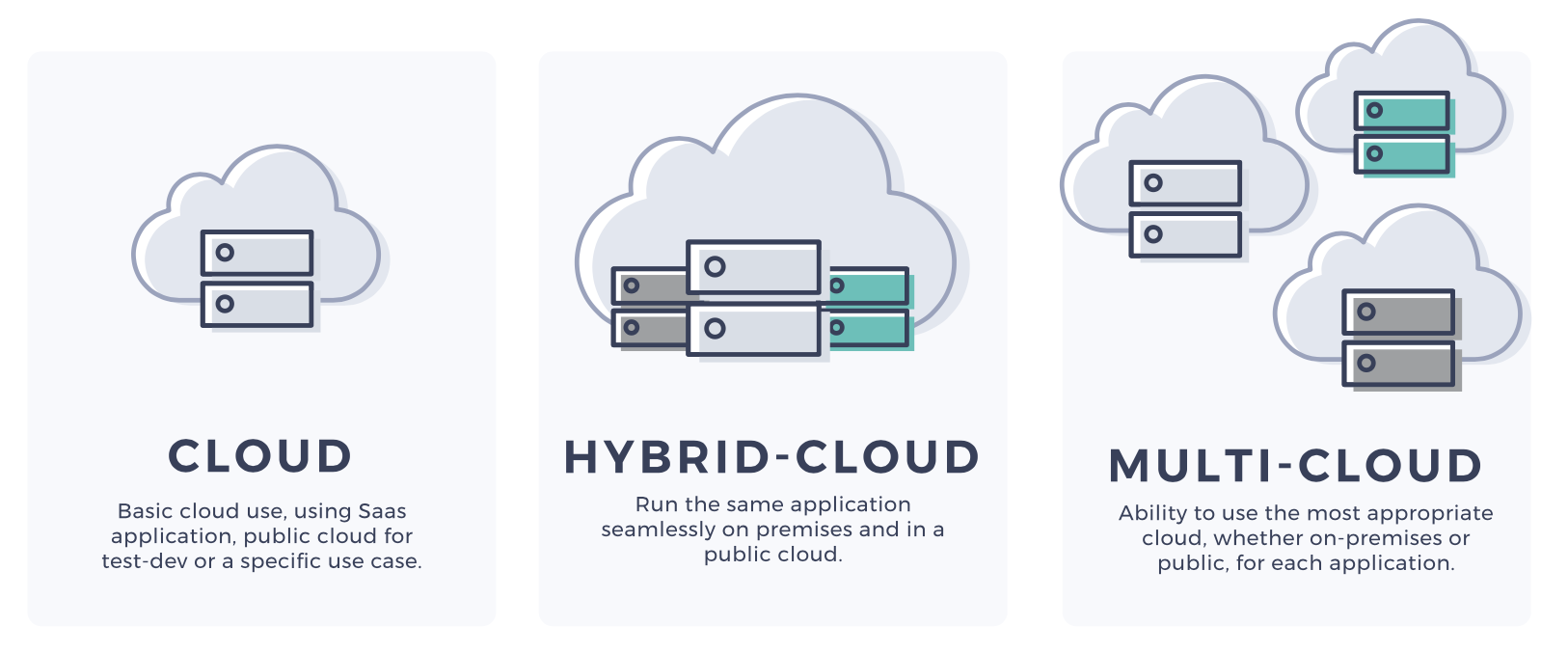 How can businesses decide whether to implement a multi-cloud strategy? 
The following three factors are the main factors that influence whether to deploy multiple clouds:
Architecture: Given that most contemporary applications are modular and can typically span many multi-cloud providers and utilize services from various clouds, architecture is one of the key decision factors in adopting multi-cloud computing. 
Sourcing: Through sourcing, it is possible to increase agility and reduce the likelihood of vendor lock-in. This choice is influenced by various criteria, including performance, data sovereignty, regulatory needs, and availability. 
Governance: Businesses can now share tools and standardize processes, policies, and procedures to enable cost governance. Enterprises may ensure a uniform administrative procedure, operational control, and more effective and efficient monitoring of their IT systems by embracing services offered by multi-cloud providers. 
Ready to experience the full power of cloud technology?
Our cloud experts will speed up cloud deployment, and make your business more efficient.  
Reasons Why Organizations Choose a Multi-Cloud Strategy 
While implementing a multi-cloud approach offers many advantages, many difficulties are involved in getting started and managing workloads across multiple clouds. Enterprises must consider several aspects before implementing a multi-cloud strategy for their company, including migration from a single cloud to many clouds or from one platform to another while guaranteeing security, performance, and cost. Here are a few of the benefits of adopting a multi-cloud strategy. 
Flexibility & Scalability 
Enterprises may scale up or decrease their storage based on their business needs by implementing a clever multi-cloud approach. A multi-cloud system is an ideal location for data storage with automation and real-time syncing. 
Ability to select the best multi-cloud providers 
The administrators can choose the finest cloud hosting service provider for each work when integrating multiple clouds, depending on the company's needs. Imagine that you could choose a cloud service provider with a faster upload speed while also selecting a different provider with better service terms and conditions. With several possibilities, businesses may be highly agile and adapt every aspect of their operations to various providers' setup and service terms. These allow you to access several solutions and choose the best fit for other business areas without changing your operations.
The majority of businesses use five different cloud platforms on average. This demonstrates how businesses are progressively converting to multi-cloud setups. Adopting a multi-cloud infrastructure can assist businesses that are having trouble with their on-premises infrastructure, IT systems, and hardware supply because it will increase their agility and workload mobility. 
One of the key benefits businesses can obtain from implementing multi-cloud solutions. By swiftly transferring to a different service provider, a private cloud, or a backup, multi-cloud enables users to reduce the risk of an attack or infrastructure failure. Better risk management is made possible by adopting separate, redundant systems that offer strong authentication, API asset aggregation, and vulnerability testing. 
Vendor Lock-inn prevention 
By implementing a multi-cloud strategy, businesses have the chance to carefully consider and negotiate the terms, drawbacks, and advantages of numerous service providers before deciding to transfer. Vendor lock-in problems are avoided by reviewing the agreements before entering a relationship. 
The industry is becoming more competitive due to the increase in multi-cloud service providers, and vendors are working to deliver the best prices to draw in the majority of cloud consumers. Enterprises can compare the variations as a result. 
Improvement in Network Performance 
In addition to lowering the cost of cloud integration with your company's current IT infrastructure, multi-cloud infrastructure enables you to build a low-latency, high-speed infrastructure.
Multi-cloud solutions, which promise flexibility, scale, and savings, are driven by digital transformation and data. Automating multi-cloud workflows enables businesses to manage diverse workloads and incorporate DevOps practices to boost agility and expedite innovation. 
However, the cloud is not a panacea. To address the rising operational needs of global business, organisations must adhere to these guiding principles and create a solid and reliable multi-cloud strategy.