In this blog we are going to use S&P 500 stock Dataset to Detect Anomalies training deep learning neural network using Python, Keras, Tensorflow.
The identification of rare items, events, or remarks which raise suspicion by significant differences from the bulk of the info in different areas such as statistics, signal processing, finance, economics, manufacturing, networking, and data processing, and anomaly detection (including an outlier detection) is a different subject. To tackle this problem, we can use deep learning to solve our problem. Over the years researchers have come up with various models for the analysis and detection of such anomalies in the sequential data.
Now we can train our model on the sequential data to detect anomalies or outliers in our data which will help us for more statistical analysis. And use Keras Library which is built over Tensorflow for building our model:
Now we can use a neural model called LSTM Auto-Encoder:
LSTM Auto-Encoder Code:
Import Libraries:
Load and Inspect the S&P 500 Index Data:
Data Pre-processing:
Create Training and Test Splits:
Build an LSTM Auto-Encoder:
Train the Auto-Encoder
Plot Metrics and Evaluate the Model:
8. Detect Anomalies in the S&P 500 Index Data: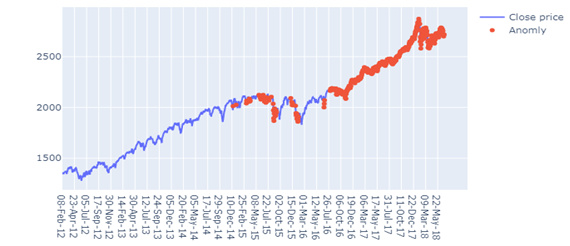 Therefore, we see that we can use LSTM Encoder-Decoder for Detecting Anomalies in Any Stock prices.