Risk assessments are used to identify, estimate, and prioritize risk to organizational operations, organizational assets, individuals, other organizations, and the Nation, resulting from the operation and use of information systems.

-NIST (National Institute of Standards and Technology)
WHAT DO WE MEAN BY CYBER-RISK?
A cyber-risk is a way for criminals to attack sensitive data, finances, or business operations online that weakens the organization's overall growth. The attacker's intention could be for monetary reasons, competitive degradation, terrorism, and many more. These criminals look for the organization's vulnerability and use it as a gateway for installing a malicious malware actor, which results in a breach.
A calculation to determine the intensity of cyber risk in an IT infrastructure can be attained by the following formula: Cyber risk = Threat x Vulnerability x business Value.
Learn from Leaders of IT
"How to use Chatgpt and Generative AI"
There will be no zero-risk involve when you are operating a business; remember to eliminate the vulnerabilities as much as it is possible and secure the security measures as strong as a stone wall between your business information and criminals. Risk is a part of the general business process.
WHAT IS A CYBER-RISK ASSESSMENT?
Just like any assessment in general, this one is the same with a lot of questions and answers to fill up with. While doing this assessment, executives and directors are supposed to answer certain questions, few examples are as follows:-
What are our organisation's most important information technology assets?
What is the level of risk my organisation is comfortable in taking?
Can all threat sources be identified?
What are the internal and external vulnerability that their organisation is holding?
What is the likelihood of exploitation
Cyber-risk assessment helps in identifying, estimating, and prioritizing organisational functions, securing its assets and information value. Its primary obligation is to keep informed the board of directors, stakeholders and executives about the associated business risk and helps in identifying it, so that they can take security measures to prevent data breach.
WHY IS IT IMPORTANT TO PERFORM A CYBER-RISK ASSESSMENT?
There are number of reasons, why should we perform and need a cyber-risk assessment, which are discussed below:-
Reduction of long term costs; identifying potential threats early can reduce the long term cost and prevent the reputational damage to occur that can cost millions.
Provides a cyber-security risk assessment template for future assessments; It is not required to take cyber-risk assessment multiple times, only a first time assessment is enough ,since the processes are repeatable.
Better organisational knowledge; just as a roadmap helps in knowing overall organisational information, an assessment like this will ensure greater security since the vulnerabilities are identified early on with the assessment.
Avoid data breaches; knowing overall risk factors can help the organisation in avoiding data breaches.
Avoid regulatory issues; there are regulatory cyber-laws that help all organisations in time of a data breach. Most of the time, businesses lose their customer information due to a cyber-attack and it is not possible to have it back if the organisation has failed adhere to cyber-laws such as, HIPAA, PCI DSS or APRA CPS 234.
Avoid application downtime; it is often observed how cyber-criminals can cause irrelevant traffic on the sites to block customer service. This can lead to a massive disruption on the sites as it is the main way of providing services to customers. Cyber-risk assessment secures the organisations to avoid such application downtime.
Data loss; cyber-risk assessment are integral to provide security to information intellectual property, assets, and business as a whole. Losing data means, losing your business to competitors, such situation can be avoidable if the organisation properly strategies its vulnerabilities and take a cyber-risk assessment.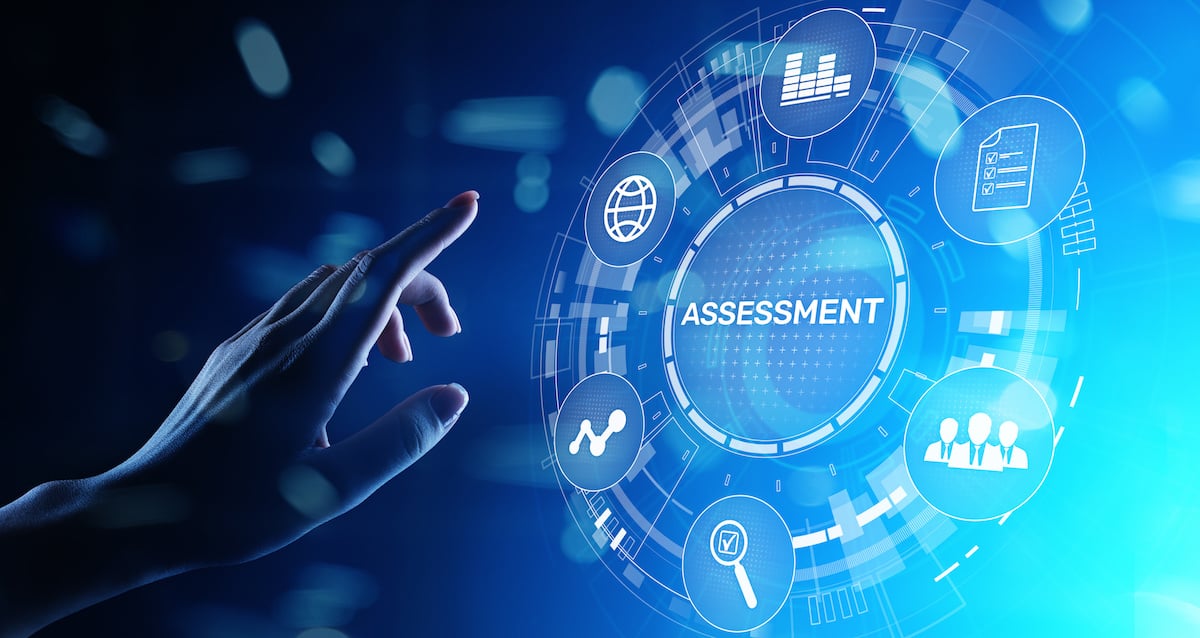 HOW TO PERFORM A CYBER-RISK ASSESSMENT?
Before you attempt to mitigate and assessing risk, you need a thorough analysis of what you data you need, what infrastructure you have and to realise the value of the data you are trying to protect. To start with, start auditing the data, and then define the scope and parameters of your assessment. Let's look at the steps that a cyber-risk assessment template would be rendering you to assess complete risk and to manage it at your own pace.
Determine information value; as we discussed above, not all organisations adhere to cybersecurity laws and once attacked by a cyber-breach, it is hard for organisations to recover the data and assets that are being lost. It is best to limit your parameters to the most critical-business assets, when you don't have an unlimited budget for information risk-management. Its saves time and money when a standard is set for determining the importance of an asset. To set a standard, an organisation should include asset value, legal standing and business importance. Once a standard is incorporated into the information risk management policy, then the next thing to do is to classify each and every asset in three categories, critical, major or minor.
Identify and prioritize assets; after determining and setting a standard for your organisation's assets, the next step would be to identify and evaluate to determine the scope of assessment that the type of asset need. This will in turn help you to prioritize which asset to assess. Not all assets possess the same value, therefore, it is better to determine and prioritize it before you start. You may not be interested in accessing the value of employee, electronic data, vehicle, piece of office equipment.
Identify cyber threats; any vulnerability can easily be exploited by any means of cyber-threats to breach security. But what if the threat comes from different sources other than malware or through hackers. Let us list them down below:-
Natural disasters: natural disasters such as floods, lightening, hurricanes, and tsunami can cost us not only to lose data but also causes disruptions to normal operating servers.
System failure: at times, a whole shutdown of all systems can cause major problems in servers and often leads to losing essential data.
Human error: human element is the most common reason of threat. Often times, non-trained employees click on unauthorised mails and links which in turn exposed the vulnerability to cause hazardous breaches.
Adversarial threats: at times, the third party vendors or a trusted insiders, or competitive espionage can become the reason for a breach to occur in the organisation.
Any kind of threats, big or small needs to be detected and verified to mitigate the risk of a cyber-attack. Knowing enough about all the threats of your organisation can lead to continuity in your organisational growth.
Ready to experience the full power of cloud technology?
Our cloud experts will speed up cloud deployment, and make your business more efficient.  
Identify vulnerabilities; any attack always has a key way to enter which can happen by exploiting any vulnerability that your computer systems hold. A cyber-security risk assessment identifies all the possible vulnerabilities to patch them before a breach in security. Vulnerability is a weakness that cyber-criminals use to harm your organisation through stealing its sensitive data. Vulnerabilities can be found by a vulnerability analysis, audit reports, NIST vulnerability database, and incident response team.
Analyse, control and implement new controls; to perform a proper cyber-security risk assessment, there is a need to analyse the security controls that are already there in the organisation and the ones that needs to be implemented. Security controls can be implemented through hardware or software, encryption, intrusions detection mechanisms two-factor authentication, continuous data leak detection.
There should be two types of controls within organisations preventive and detective control. Preventive controls attempt to stop the attack from happening and detective controls identify the place where the attack started.
Calculate the likelihood and impact of various scenarios on a per-year basis; after identifying and evaluating different aspects of cyber-risk breach attack, the next thing that comes into focus is to evaluate and analyze the value of an organization's informational assets. Let's say it is worth $100 million dollars and if a breach occurs in real; then we can estimate half the information is more likely to be leaked; let's say the stolen data is of the value of $50 million. And if the breach occurs once in fifty years, then it cost each year the loss of $1 million. Therefore, there is a tremendous need to calculate yearly evaluation to calculate a security breach impact on an organization and the more reasons why we need to protect our organizations from security breaches.
Prioritize risks based on the cost of prevention vs. information value; while prioritizing risk factors for your organisation it seem rather a better choice to evaluate what your business can't afford to lose and the ones that are costing you too much than the original cost of asset or information value. While taking a cyber-security risk assessment make sure that you have analysed every asset value and its prevention value. If the prevention value exceeds the amount of the value of asset, then it wouldn't be a good idea to make an expenditure on trying to protect it. Determine whether the risk mitigating would require, high corrective measures or medium or low.
Document Results from Risk Assessment Reports : at the end of the assessment, a report should be made to support management so that it can in navigating better budget plans, policies and procedures. The assessment report should consist of every threat possibility, vulnerability, information value, and likely consequences if a breach occurs. A thorough report on these factors may determine better control recommendations and prevention against cyber-crime. To get the best results, try iSmile technologies cyber-security risk assessment to prevent and control security operations efficiently.

iSmile technologies offers free consultation with an expert, talk with an expert now